Toolbox Talks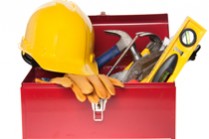 A Toolbox Talk is an informal group discussion that focuses on a particular safety issue. These tools can be used daily to promote your departments safety culture. Toolbox talks are also intended to facilitate health and safety discussions on the job site.
Department Contact
Mark Collins
Associate Director of Occupational & Facilities Safety
617.496.7168

Did You Know?
An electrical current as small as 10 mill amperes (mA) can cause the heart to beat irregularly, possibly resulting in death. When using power equipment in wet places, make sure the outlets have a GFI system.