Lab Inventory Management & Door Placarding
Lab Inventory Management & Door Placarding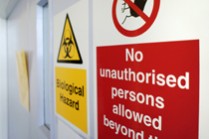 Online inventories of chemical, pharmaceutical, biological, and radiological materials provide hazard awareness to emergency responders. Such inventories also enable EH&S to query the database to better meet the demands of local, state, and federal regulatory bodies.
Department Contact
Office
617.496.3797


Chiu-Oan Ngooi
Senior Lab Safety Program Officer
617.384.8264

Did You Know?
The University's Office of the Provost is conducting a survey on the culture of safety in laboratories Add your thoughts by October 27th.