Lab Inventory Management & Door Placarding
Lab Inventory Management & Door Placarding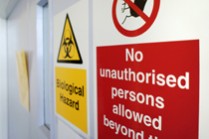 Online inventories of chemical, pharmaceutical, biological, and radiological materials provide hazard awareness to emergency responders. Such inventories also enable EH&S to query the database to better meet the demands of local, state, and federal regulatory bodies.
Department Contact
Office
617.496.3797


Chiu-Oan Ngooi
Senior Lab Safety Program Officer
617.384.8264

Did You Know?
Knowing the location and how to use safety equipment such as safety showers and eyewashes can help minimize injuries and fatalities.