Toxic Substance Control (TSCA)
Toxic Substance Control (TSCA)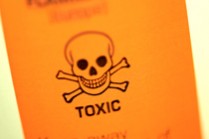 Laboratories engaged in research must consider the applicability of the Toxic Substances Control Act (TSCA) to their operation. The Toxic Substances Control Act (TSCA), administered by the U.S. Environmental Protection Agency (EPA), is intended to ensure that the human health and environmental effects of chemical substances are identified and adequately addressed prior to production or transport.
Department Contact
Mary Corrigan
Associate Director of Laboratory Safety Programs
617.496.4746


Did You Know?
In addition to Safety Data Sheets provided by manufacturers or accessible on the
EH&S website
, the National Institute of Occupational Safety and Health has a list of databases which contain acute and chronic health effect information for hazardous chemicals at
http://www.cdc.gov/niosh/topics/chemical-safety
.