Lab Waste Management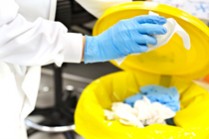 EH&S oversees the proper management of laboratory wastes in accordance with all local, state and federal regulations. Adhering to these regulations, as well as good management practices, ensures that the University is operating to protect the safety and health of all members of the Harvard community and to protect research, equipment, facilities and the environment.
Department Contact
Office
617.496.3797


Chiu Oan Ngooi
Senior Lab Safety Program Officer
617.384.8264

Did You Know?
Laboratory staff managing chemical waste satellite accumulation areas must inspect these areas weekly for proper container and label management. Documentation is not required.