Lab Waste Management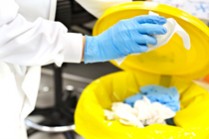 We oversee proper lab waste management in accordance with all local, state, and federal regulations.
Adhering to regulations and good management practices ensures Harvard operates to protect the safety and health of its community, research, equipment, facilities, and the environment.
Did You Know?
Laboratory staff managing chemical waste satellite accumulation areas must inspect these areas weekly for proper container and label management. Documentation is not required.