Shipping & Transporting Research Materials
Shipping & Transporting Research Materials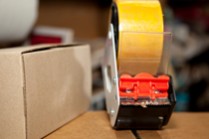 EH&S assists laboratory researchers to manage shipments and transportation of dangerous goods, including chemicals, radioactive materials, and biological materials, by ground, air, or sea, in order to comply with the U.S. Department of Transportation (DOT) regulations, International Airline Transportation Association (IATA) guidelines and/or Maritime law. Transporting certain materials may require import/export permits or other documentation from federal agencies including, US Border Protection and Customs, FDA, USDA/APHIS, Fish and Wildlife, and CDC.
Department Contact
Office
617.496.3797


Marissa M. Cardwell, PhD, RBP
Director of Laboratory Safety & Biosafety
617-432-0022

Did You Know?
September is National Preparedness Month. Do you know where to find the emergency procedures (with specific emergency contacts) posted in your lab and what you would do if immediate action is needed? An online version of the general Emergency Response Guide for your campus is also available through the
Emergency Guidance Program
.