Conservation Lab Safety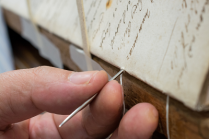 Harvard University's Conservation Laboratories play a critical role in supporting the University's mission. Conservation spaces may vary in size and scope, but often include activities that involve a variety of EH&S risks.
The Conservation Lab Safety Program provides occupational safety and environmental regulatory information specific to Conservation Laboratories. Every Conservation Lab at Harvard is supported by a Lab Safety Adviser (LSA) and a Designated Safety Officer (DSO).
Did You Know?
September is National Preparedness Month. Do you know where to find the emergency procedures (with specific emergency contacts) posted in your lab and what you would do if immediate action is needed? An online version of the general Emergency Response Guide for your campus is also available through the
Emergency Guidance Program
.