Service Contractor Safety
Service Contractor Safety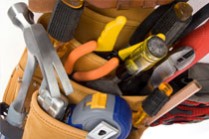 Contractors must perform work at Harvard safely and compliantly to protect its personnel, facilities, and reputation.
The Service Contractor Safety Guide details Harvard's expectations for service contractors. Reference the guide in contracts and service agreements.
Harvard managers and operations staff should periodically visually inspect contractor's work to make sure it is safe.
Did You Know?
Construction and demolition (C&D) debris are prohibited from Massachusetts landfills, but much of them can be recycled. Contractors should work with EH&S and OFS to develop a Waste Management Plan that uses Harvard University approved facilities.