Cranes & Hoists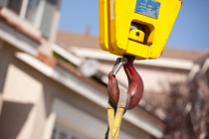 The Cranes & Hoists program provides technical and compliance guidance to Harvard University crane and hoist owners and operators.
These devices are required to be inspected on a regular basis by both the University and third party inspectors. All crane and hoist operators must be properly trained.
Did You Know?
Make sure all machine safe guards are in place at all times so that moving parts are not a danger to you and other workers nearby. If machine safety guards are removed due to maintenance ensure that Lockout/Tagout (LOTO) protocols are closely followed.