Machine Shop Safety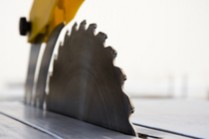 There are common hazards associated with the use of machine shop equipment and tools. The Machine Shop Safety program provides guidance on the use of personal protective equipment, machine guarding, and recommended safety policies.
Department Contact
Eli Clifford
Senior Safety Officer
617.496.7011

Did You Know?
Make sure all machine safe guards are in place at all times so that moving parts are not a danger to you and other workers nearby. If machine safety guards are removed due to maintenance ensure that Lockout/Tagout (LOTO) protocols are closely followed.