Hazard Communication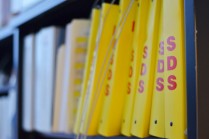 The Hazard Communication Standard is designed to reduce the potential for occurrences of chemical-related occupational illnesses and injuries.
The Hazard Communication program establishes procedures and training information to ensure that the hazards associated with chemical substances used in Harvard University operations are communicated to all employees.
Did You Know?
Make sure all machine safe guards are in place at all times so that moving parts are not a danger to you and other workers nearby. If machine safety guards are removed due to maintenance ensure that Lockout/Tagout (LOTO) protocols are closely followed.