Makerspace Safety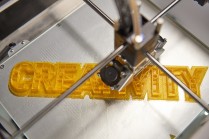 Makerspaces are designed to encourage creativity and self-learning in constructing many varied products. Makerspaces are becoming more common, with the advent and greater use of 3D printing (known also as additive manufacturing) and laser cutters, along with the more traditional tools such as soldering and machining. Some of the hazards, including the ultrafine particles generated during 3D printing, have not been fully characterized to date. With this in mind, careful review of the processes, development of safe work procedures, and use of exposure control devices are important to minimize the risks of adverse exposure.
Department Contact
Mark Collins Chiu Oan Ngooi Maryam Borton
Did You Know?
Make sure all machine safe guards are in place at all times so that moving parts are not a danger to you and other workers nearby. If machine safety guards are removed due to maintenance ensure that Lockout/Tagout (LOTO) protocols are closely followed.