Aerial Lifts/Fork Lifts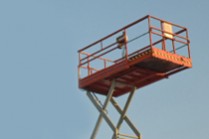 Forklifts, Aerial lifts, and Aerial Work Platforms all require specialized training. Safely operating these types of equipment requires inspection, preparation, anticipation and careful attention in order to maintain control of theses vehicles at all times. The hazards associated with Forklift, Aerial lifts, and Aerial Work Platforms include tip over, fall, collision, and electrocution hazards. This program will identify and establish the core principles of safe machine operations.
Department Contact
Christopher Rowell
Associate Director of Occupational Safety
617.496.8894

Did You Know?
Make sure all machine safe guards are in place at all times so that moving parts are not a danger to you and other workers nearby. If machine safety guards are removed due to maintenance, ensure that LOTO protocols are closely followed.