Electrical Safety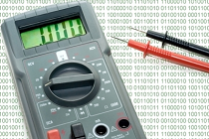 Harvard University employees who work with or near electrically energized equipment need to adhere to basic electrical safety and training requirements, as defined by the Electrical Safety program.
Electricians and other trade professionals who work with electricity directly require additional training and guidelines as defined by the National Fire Protection Association (NFPA) 70E Standard
Did You Know?
Make sure all machine safe guards are in place at all times so that moving parts are not a danger to you and other workers nearby. If machine safety guards are removed due to maintenance ensure that Lockout/Tagout (LOTO) protocols are closely followed.