Automated External Defibrillator (AED)
Automated External Defibrillator (AED)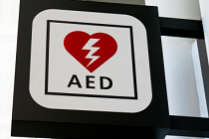 The EH&S and University Health Services AED standard helps schools and departments implement public access defibrillation (PAD) programs.
EH&S helps develop and maintain local AED programs.
Did You Know?
Make sure all machine safe guards are in place at all times so that moving parts are not a danger to you and other workers nearby. If machine safety guards are removed due to maintenance ensure that Lockout/Tagout (LOTO) protocols are closely followed.