Confined Space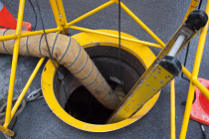 The maintenance and operations of many building systems requires workers to enter confined spaces. Confined space entry presents a number of potential hazards.
The Confined Space program establishes a standard means of inventorying and assessing these spaces, as well as providing training for personnel required to enter these spaces.
Did You Know?
Make sure all machine safe guards are in place at all times so that moving parts are not a danger to you and other workers nearby. If machine safety guards are removed due to maintenance ensure that Lockout/Tagout (LOTO) protocols are closely followed.