Lab Inventory Management & Door Placarding
Lab Inventory Management & Door Placarding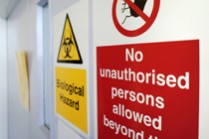 Online inventories of chemical, pharmaceutical, biological, and radiological materials provide hazard awareness to emergency responders. Such inventories also enable EH&S to query the database to better meet the demands of local, state, and federal regulatory bodies.
Department Contact
Office
617.496.3797


Chiu Oan Ngooi
Senior Lab Safety Program Officer
617.384.8264

Did You Know?
September is National Preparedness Month. Do you know where to find the emergency procedures (with specific emergency contacts) posted in your lab and what you would do if immediate action is needed? An online version of the general Emergency Response Guide for your campus is also available through the
Emergency Guidance Program
.