Chemical Waste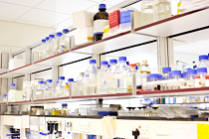 The Chemical Waste program ensures that the University is operating to protect the safety and health of employees, students, and the environment through the proper management of hazardous chemical wastes.
This includes correctly identifying wastes, storing wastes properly, performing required weekly inspections, and ensuring that all storage time limits are met. The Chemical Waste program provides resources to assist with the labeling and shipping of waste materials.
Department Contact
Kathryn Kaminski
Director of Central EH&S Systems and Programs
617.496.2445


Lance Schumacher
Environmental Safety Officer
617.496.9152


Did You Know?
Facilities staff managing chemical waste satellite accumulation areas must inspect these areas weekly for proper container and label management. Documentation is not required.