Oil Storage and Tank Management (SPCC)
Oil Storage and Tank Management (SPCC)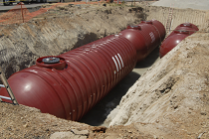 The Oil Storage and Tank Management (SPCC) program works to ensure compliance with USEPA regulations and to minimize the potential risks of oil storage. This includes spill prevention procedures, an inventory of oil and oil containing devices, and the training and responsibilities of employees. The program also documents the University's Underground Storage Tank requirements and list the applicable UST Operators for the University.
Department Contact
Josh Fawson
Water Programs Manager
617.495.1109


Kathryn Kaminski
Director of Central EH&S Systems and Programs
617.496.2445


Did You Know?
Equipment with lithium batteries (phones, laptops) must be properly evaluated and packaged before shipping. Lithium batteries have been known to cause catastrophic fires on airplanes. Contact EH&S if you need assistance shipping anything that may contain hazardous materials.