Controlled Substances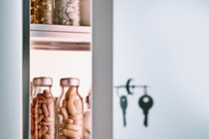 EH&S is available to assist laboratories in managing the use of controlled substances in research. Due to their potential for abuse, controlled substances are subject to extensive licensing, registration, storage, security, research use, disposal, and inventory requirements. You may not use or possess U.S. Drug Enforcement Administration (DEA) and the Massachusetts Department of Public Health (MDPH) controlled substances without a thorough understanding of the requirements. Laboratory personnel involved in Controlled Substance activity should review the document "Controlled Substance Researchers' Guide" (below) prepared by the Harvard Office of General Counsel.
Department Contact
Office
617.496.3797


Mary Corrigan
Associate Director of Lab Safety Programs
617.496.4746

Did You Know?
In addition to Safety Data Sheets provided by manufacturers or accessible on the
EH&S website
, the National Institute of Occupational Safety and Health has a list of databases which contain acute and chronic health effect information for hazardous chemicals at
http://www.cdc.gov/niosh/topics/chemical-safety
.