Swimming Pool Safety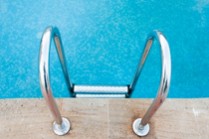 Pre-operation and pre-licensing inspections are provided by Environmental Public Health to assist pool managers with regulatory requirements. Comprehensive reviews of the pool or whirlpool's facility, operating procedures, water chemistry, filtration, circulation, disinfection, and safety equipment help to ensure that the facility is operating properly and that bathers enjoy a safe swimming experience.
Department Contact
Valerie Nelson
Associate Director of Environmental Public Health
617.495.2102

Did You Know?
Even eggs purchased from approved sources can contain harmful bacteria that can lead to foodborne illness. Pasteurized eggs and egg products have been treated to destroy salmonella and other disease causing microorganisms.
Consider using pasteurized eggs or egg products in dishes that will not be fully cooked (e.g. over-easy eggs, soufflés, Hollandaise sauce).