Radiation Authorizations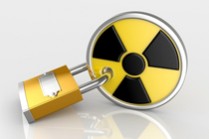 To meet regulatory requirements, radiation use (radioactive materials, lasers, X-rays, etc.) at the University is managed using a Radioactive Use Permit issued by the University's Radiation Safety Committee (RSC), in accordance with the University's Radioactive Materials License or other regulations issued by the Massachusetts Department of Public Health's Radiation Control Program.
To apply for a Permit, download and complete the appropriate Permit Application (radioactive materials & devices or laser/non-ionizing) below. Return the Application to EH&S by mail (46 Blackstone Street, Cambridge, MA 02139), fax (617-496-5509), or email (radiation_protection@harvard.edu).
When the RPO receives the application, a health physicist will meet with the faculty member to review it, discuss radiation safety aspects of the experiments and assist in the set up of laboratories. The faculty member assumes primary responsibility for radiation safety in facilities under his or her control. The Radiation Protection Officer will make a recommendation to the RSC, which will vote by either a mail ballot or at the next regularly scheduled meeting. Approved applications are valid for two years. Radioactive materials, devices, and lasers shall not be used at Harvard University without a valid Permit."
Did You Know?
The closer the cellphone antenna tower, the less the RF exposure when you use your cellphone? For further info on Cellphone Towers and Radiofrequency (RF),
CLICK HERE
.