Radioactive Materials Purchasing
Radioactive Materials Purchasing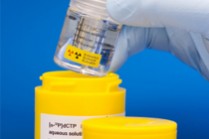 Any receipt of radioactive materials, whether a purchase, gratis shipment or shared sample, must be approved by the EH&S Radiation Protection Office (RPO) before shipment as a condition of the University Radioactive Materials License. To purchase radioactive materials under Harvard University's License, please use the online authorization system in the Tools section below.
Did You Know?
The closer the cell phone antenna tower, the less the radiofrequency (RF) exposure when you use your cell phone? For further info on cell phone towers and RF visit
Cellphone Towers and RF Radiation Safety
.