Radiation Surveys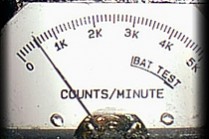 Routine contamination surveys are an important part of overall radiation safety in the laboratory. EH&S provides guidance for performing personal or area contamination surveys. For instance, see the document below entitled "Radiation Survey Information" for a guide on how and when to conduct radiation surveys.
If you have questions about your specific laboratory procedures, contact EH&S at 617-496-3797 or .
Did You Know?
The closer the cellphone antenna tower, the less the RF exposure when you use your cellphone? For further info on Cellphone Towers and Radiofrequency (RF),
CLICK HERE
.